Founding Partner Feature: Mount Royal University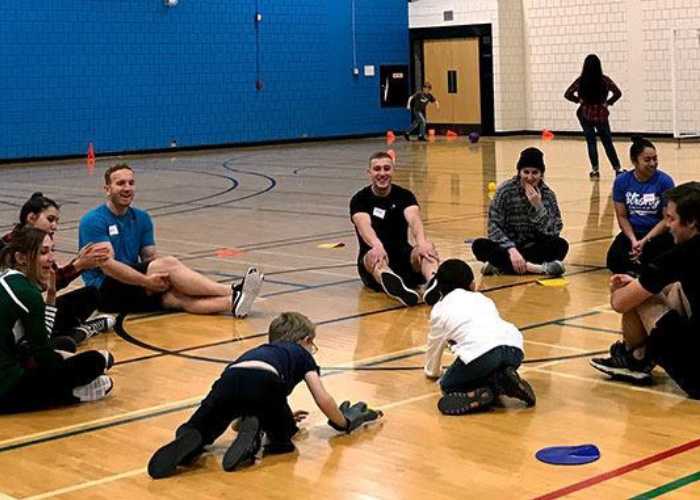 Mount Royal University (MRU) is home to a variety of adapted and inclusive physical activity community programs to get families of all abilities active. From one-to-one private swimming lessons (H2Able), to a campus recreation wheelchair basketball program, to a wheelchair accessible fitness centre featuring a Functional Electrical Stimulation (FES) bike; MRU has been an industry leader for years in adapted physical activity and is motivated to continue to develop new inclusive opportunities as a founding partner of the Calgary Adapted Hub powered by Jumpstart.
"Mount Royal has aspired to be a leader and innovator in adapted physical activity programming and by partnering with the other 6 founders of the Calgary Adapted Hub Powered by Jumpstart this will hopefully accelerate the evolution of our programs, assessment and advocacy for children and their families living with a disability." shared MRU Professor and Calgary Adapted Hub Chair, Dr. David Legg. "The ultimate goal is for children living with disabilities to be more active, more often and we are proud and humbled to be supported by Jumpstart to make this a reality."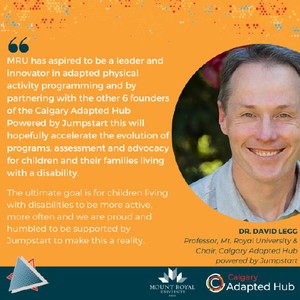 The feature adapted program that sparked MRU's involvement with the Calgary Adapted Hub is the Children's Adapted Physical Activity (CAPA). The CAPA program pairs University student volunteers one-on-one with children who are experiencing disability (of any type, physical, sensory, developmental and or intellectual, ages 4-12 years). Activities include organized games and sports, obstacle courses, craft-making, and story-telling in both the gym and swimming pool  settings. The parents of each child involved are asked to fill out a form describing the nature of their child's needs and any specific goals they have for their child (i.e., verbal, physical, social). Each volunteer is then given this information and over the course of the first few weeks develops a long-term plan to help the child work toward the goal. CAPA traditionally runs Saturday afternoons at Mount Royal University with the first hour in the gymnasium and the second hour in the pool. The program has filled every semester usually within 24 hours of opening registration, all based on word-of-mouth marketing. CAPA was founded in Winter 2011 by Dr. David Legg and Dr. Sarah MacEachern (now, a Clinical Investigator in Developmental Pediatrics at UCalgary and member of the Calgary Adapted Hub Community Advisory Committee) and is modeled partially after the Sensory Motor Instructional  Leadership Experience (SMILE) program at Acadia University.
For more information on MRU's adapted programming visit: https://www.mtroyal.ca/AboutMountRoyal/MediaRoom/Newsroom/accessible-recreation.htm
May 1, 2021 | Partners News