Founding Partner Program Spotlight: WinSport's Adapted MultiSport Program
As a founding partner of the Calgary Adapted Hub powered by Jumpstart, WinSport is dedicated to creating more opportunities for families of all abilities to get active more often.
In the Spring of 2019 WinSport introduced the Adapted Multi-Sport Program, giving children and families (both those who are able bodied, and those with disabilities) the opportunity to try nine different wheelchair sports. Once a week participants would try a new wheelchair sport that was facilitated by the respective sport organization. The purpose behind this was to provide participants with expert coaches that could properly facilitate the sessions, and to give the sport organizations the opportunity to recruit people to their clubs. The sessions were focused on introducing the participants to the wheelchair sports, meaning they were delivered at a very introductory level. The program took place out of WinSport's Markin MacPhail Centre. This program was free for participants and 20 sport wheelchairs were provided for anyone to try through the support of the Calgary Flames Foundation and the Government of Alberta's Recreation & Physical Activity Division (RPAD) grant.
"Having the opportunity to be able to participate in the WinSport Adapted Multi-Sport Program was such an eye opening opportunity and life changing experience not only for our son, but our whole family" shared Cassandra Murray, parent of a participant in the WinSport program.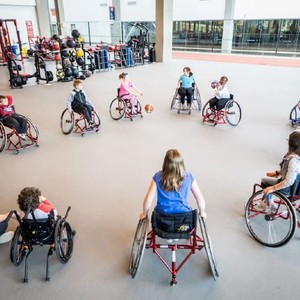 "My son has medical needs (airway) that requires a caregiver with him at all times, so the fact that we as parents and his siblings were also able to participate/attend made a huge difference and opened up more options for Sawyer. We even brought a couple of his school friends one time so that for the first time he was on an equal playing field. The inclusiveness of the program was really appreciated."
Despite having to put this program on pause as a result of public health restrictions related to the Covid-19 pandemic, WinSport is dedicated to bringing the Adapted Multi-Sport program back to life when it is deemed safe to do so, with the support of their partners, including Jumpstart and Calgary Adapted Hub.
April 1, 2021 | Partners News