Founding Partner Feature: City of Calgary, Recreation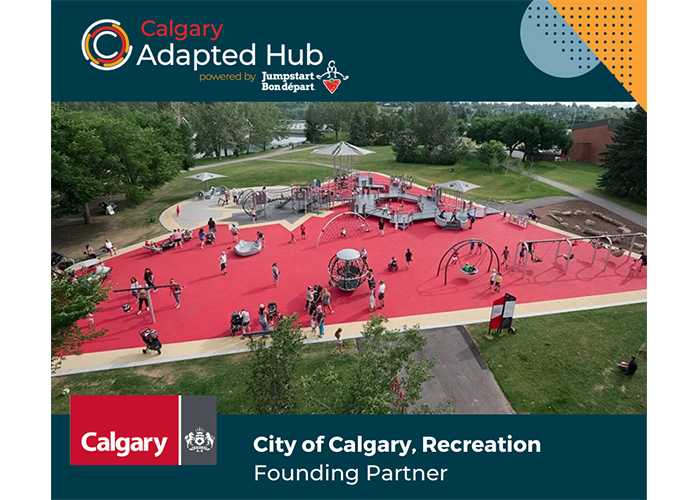 As a founding partner of the Calgary Adapted Hub powered by Jumpstart, The City of Calgary Recreation department welcomes customers and families of all abilities in their facilities and programs.
"The City of Calgary is committed to creating environments that ensure Calgarians with disabilities have the opportunity to equally benefit from participating in sport" shared Lisa Hickey-Besserer, Acting Manager for Sport & Partnership Development with Calgary Recreation. "We are proud to be founding partners in the Calgary Adapted Hub powered by Jumpstart."
In 2018, City Council approved the Inclusive Play Spaces Implementation Plan and opened a 15,000 square foot inclusive playground at Shouldice Athletic Park through the Canadian Tire Jumpstart Inclusive Play Project. This year, 10 new inclusive playgrounds will be built in Calgary, as The City moves toward a goal of one inclusive playground within 5km of every Calgarian home. Find out more about these inclusive playgrounds here: https://www.calgary.ca/csps/parks/planning-and-operations/inclusive-playgrounds.html
In addition to inclusive playgrounds, the Calgary Recreation facilities have developed and updated accessibility standards for any City-owned and operated properties. Examples of these accessibility standards can be found at the Sir Winston Churchill Aquatic and Recreation Centre, which has recently been renovated to include the installation of an elevator, private barrier-free universal change rooms, and a pool pod to improve access in and out of the deep-water pool basin.
For more information on City of Calgary Recreation adapted programming visit: https://www.calgary.ca/content/www/en/home/csps/recreation/disability-information-recreation.html#aide or browse the Calgary Adapted Hub program directory.
June 7, 2021 | Partners News