Collaboration sparks four new adaptive sports across Calgary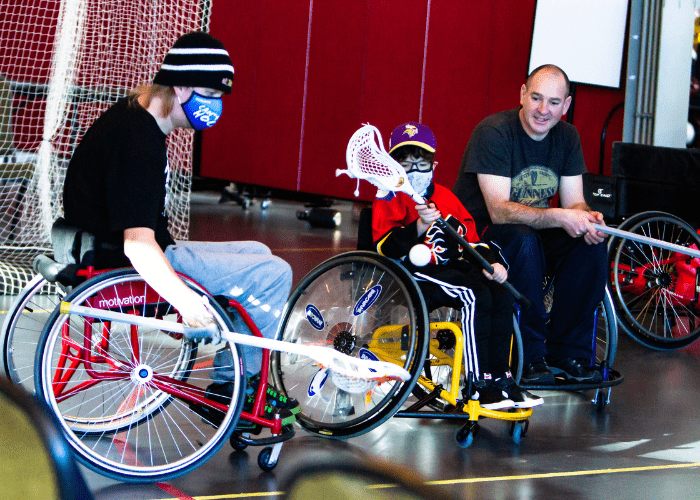 Calgary, Alberta – The Calgary Adapted Hub powered by Jumpstart is excited to announce the launch of four new adaptive and disability-inclusive sports to Calgarians.
New programs include:
"After years of success with our adapted lacrosse program at the Autism Aspergers Friendship Society of Calgary, we knew this program had the potential to expand and reach more Calgarians," says Scott Godfrey, a Program Coordinator with AAFS Calgary "By partnering with Vivo and CAH, AAFS and Lacrossing Barriers can now share Canada's National Summer Sport with individuals with and without physical disabilities."
Bjorn Billehaug, Associate Director Recreation, Mount Royal University Cougars Athletics and Recreation added "We are fortunate to collaborate with a variety of community organizations such as the Calgary Grizzlies and Alberta Cerebral Palsy Sports Association to create safe and welcoming entry points into para sports"
"Thanks to Jumpstart, we are creating pathways for participation from grassroots to high performance in both wheelchair and able-bodied fencing, which is a rare opportunity in many Canadian cities," says Josh Rike-Fox, Ares Pentathlon & Fencing Club's Sport Manager and Coach.
Many family-favourite adaptive and disability-inclusive sport and recreation programs are also set to return this fall from CAH partners, including:
"Thanks to the power of Canadian Tire Jumpstart, the Calgary Adapted Hub partner organizations can connect with the community and build evidence-informed programs directed by families with lived experiences," shares David Legg, CAH Founder and Co-Chair. "We are generating more opportunities for families to be active through unique collaborations and partnerships throughout Calgary."
For more information on adaptive and disability-inclusive sport and recreation programs, families can book a free one-on-one program navigation call with the CAH team to explore all options in the city and find an activity that suits their individual needs and interests.
Full program details available at www.calgaryadaptedhub.com
—
About the Calgary Adapted Hub powered by Jumpstart:
Calgary Adapted Hub is a collective of Calgary-based organizations committed to providing quality sport and recreation opportunities for children, youth, and families living with disabilities in the city of Calgary. The collective is supported by Canadian Tire Jumpstart.
The Hub was founded in 2020 to make sport and recreation more inclusive for children, youth, and families living with disabilities that are physical, intellectual, sensory, developmental, or otherwise. We are made stronger by the contributions of our partners, each of which is a leader in the field of adapted sport and recreation with their own area of expertise. From innovative programming to ground-breaking research, they aspire to be at the forefront of disability servicing. Partners include: The University of Calgary, Mount Royal University, City of Calgary Recreation, Sport Calgary, Vivo for Healthier Generations, MNP Community & Sport Centre, and WinSport.
Follow Calgary Adapted Hub on Twitter, Facebook and Instagram or contact info@calgaryadaptedhub.com for more information.
—
For media inquiries:
Karen Dommett
Director, Programs & Services
kdommett@calgaryadaptedhub.com
403.510.7307
September 1, 2022 | Articles