CDPP Releases 'Inclusive Playgrounds' Resource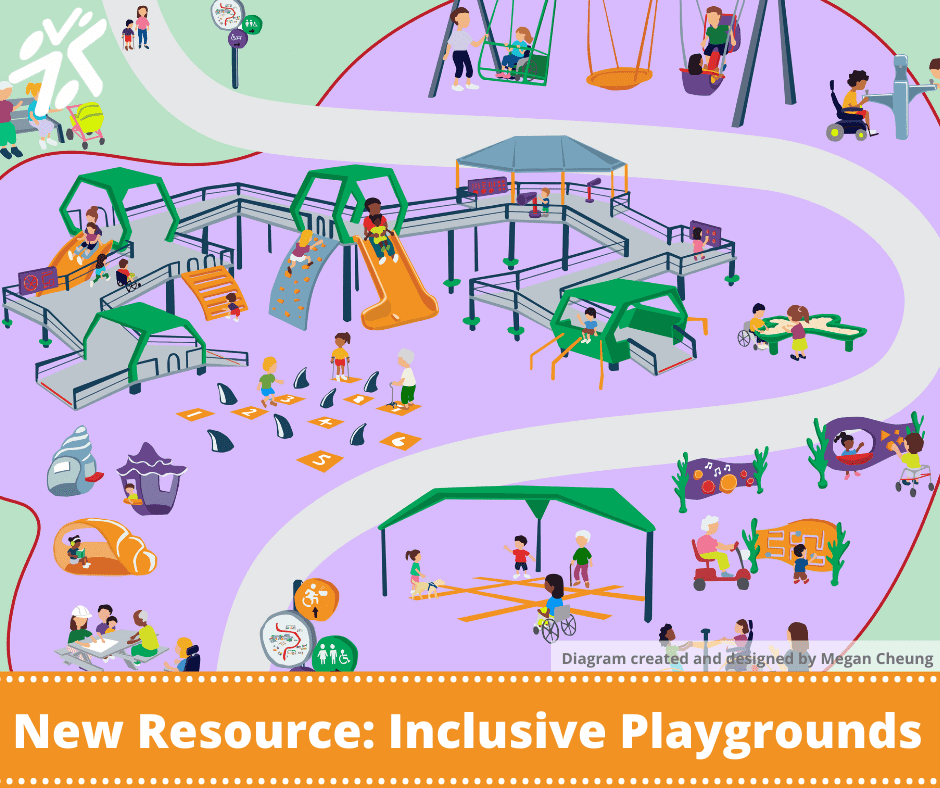 An interdisciplinary team of researchers (with expertise in childhood disability, physical activity, children and youth geographics, and planning and design of built environments) conducted a scoping review that analyzed existing literature on inclusive playground design. Consideration was given not only to the physical design of playgrounds, but also playgrounds' surrounding built and social environments, allowing for a more comprehensive approach focused on ensuring children with disabilities and their families experience inclusion during playground visits. Thirteen evidence-informed recommendations were identified and highlight the importance of both the playground itself and the surrounding social and built environments in fostering an accessible play space.
The Inclusive Playgrounds resource:
presents the thirteen evidence-informed recommendations for designing inclusive playgrounds to enable participation for children with disabilities,
provides a diagram of an inclusive playground illustrating how these recommendations can be implemented, and
provides a short description of how the recommendations were identified.
This resource is intended for any group or individual concerned with inclusion and is working to create a play space in their community for people of all ages and abilities. This may include playground designers, municipalities, and families.
The Canadian Disability Participation Project recognizes that playgrounds are a common childhood environment that should be fully accessible and inclusive. The evidence-informed recommendations in the Inclusive Playgrounds resource, if implemented, can help to facilitate inclusion thus upholding play as a fundamental human right of all children.
Links to the Resources:
Inclusive Playgrounds: https://bit.ly/3xnr9kl
Bulletin: https://bit.ly/3BUIuUV
August 5, 2021 | Research