Adaptive Programs Featured at Sport Calgary's All Sport One Day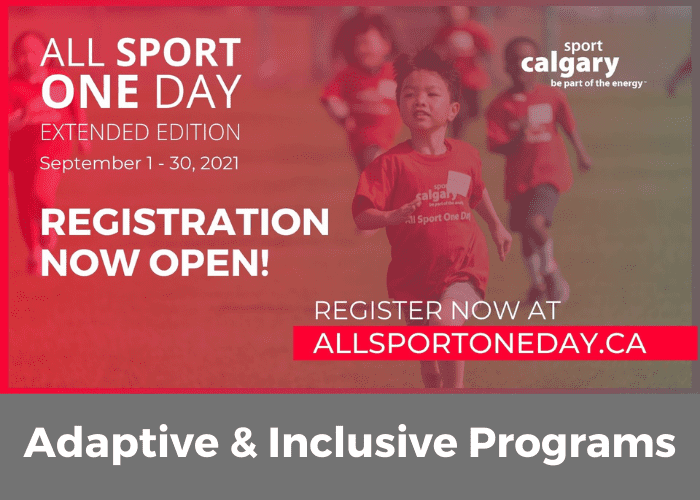 September is not just the return to school It's also the return to SPORT! Sport Calgary is proud to announce the return of their signature event, All Sport One Day in a special 'Extended Edition' for 2021.
Targeted towards children ages 6 to 17, All Sport One Day Extended Edition is an amazing opportunity for Calgary children and youth to try a new sport through an entire month of free sport discovery.
This year, there are over 20 sessions that are either partially or fully adaptable for children and youth with a disability. A full list of adaptive programs is available at AllSportOneDay.ca.
Not sure which program to choose? Here are a few featured programs start with:
Full All Sport One Day event details: https://www.sportcalgary.ca/all-sport-one-day 
—
About Sport Calgary:
Sport Calgary is a volunteer non-profit society, representing over 300 sport organizations in Calgary as a Civic Partner. As an advocate of sport, we strive to assist, support and influence the growth of sport in Calgary by:
Playing a lead role in the implementation of the Calgary Sport for Life Policy, and ensuring it continues to create a vision for sport in Calgary from introductory to high performance levels.

Continually identifying and assessing the needs of the sport community and facility stakeholders.

Encouraging development and enhancement of appropriate facilities and the efficient utilization of current facilities.

Fostering collaboration within the sport community and coordination of resources among stakeholders to develop and enhance facilities.

Increasing the profile of sport in Calgary, and advocating the values and benefits of sport.

Facilitating education and training opportunities for athletes, coaches, officials, administrators, parents and volunteers.

Acting as a resource for sport organizations.

Encouraging the hosting of sport events and sport tourism in Calgary.
August 24, 2021 | Partners News