Rewatch: 2021 Research & Community Engagement Seminar Series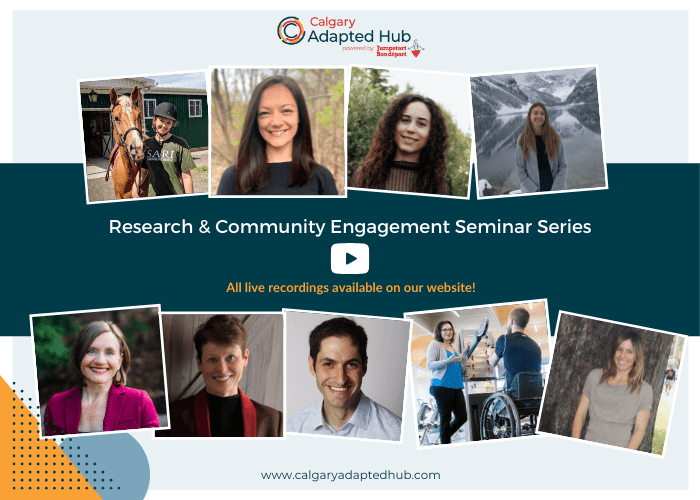 The Research & Community Engagement Seminar Series is on a brief holiday break in December, but you can re-watch all previous seminars any time on our YouTube channel. The seminar series aims to bring current research to families and the sport and recreation programming community in an easy-to-digest community-based approach. Here are our latest episodes:
Episode 8: Catherine Tremblay & Jessica Youngblood
Can an Adapted Sport and Recreation Camp Impact Physical Activity in Youth with Physical Disabilities?
Family Member Perspectives Regarding Family Relationships Following Participation in an Adapted Physical Activity Camp
Episode 7: Dr. Brianne Redquest
The Impact of Physical Activity Among People with Neurodevelopmental Disabilities.
"It Feels Good!" Benefits of Therapeutic Horseback Riding from the Children's Perspective.
Episode 5: Dr. Kelly Arbour-Nicitoplous
Quality Play in Children and Youth with Disabilities – A Right or a Privilege?
June 24, 2021
Episode 4: Dr. Kathleen Martin Ginis
Evidence-Based Strategies for Designing Effective Physical Activity-Enhancing Interventions for People with Disabilities
May 27, 2021
Separate is Not Equal
April 15, 2021
Too Many Chairs: Spatiality and Disability in Sporting Spaces
March 24, 2021
From the Paralympics to Public Health: The Impact of Sport and Physical Activity for People with Disabilities
February 25, 2021
December 17, 2021 | Research